Exciting Events at Kellaway Building Supplies
At Kellaway Building Supplies, we believe in fostering a sense of community and providing value-added experiences for our customers. Throughout the year, we organise a variety of events that attract our trade and DIY customers, everyone is welcome to join in. Here are a few of the events we offer:
Winter Festivals
Join us for the most anticipated events of the season - Kellaway Building Supplies 'Winter Festivals'!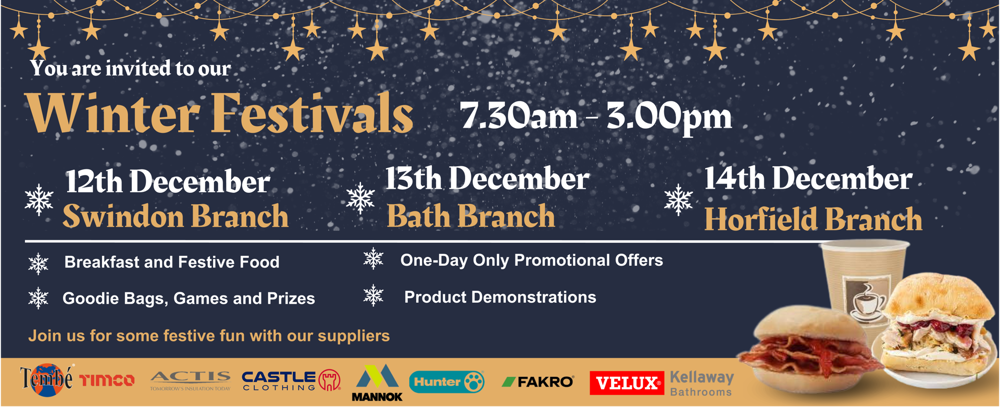 Come and gain invaluable knowledge and insights from reputable companies renowned for their expertise. Be ahead of the game as you learn from the best!
Embrace the festive spirit with exciting games, prizes, and giveaways our Winter Festival is not to be missed! Come and take advantage of some 1-day ONLY special offers on products provide by ourselves or supplies.
To satisfy your appetite, we will be serving complimentary breakfast rolls and a delightful selection of festive treats. Breakfast will be available 7.30 – 11.00am and festive baps 11.30am – 3.00pm. Soak up the joyous atmosphere while networking and discussing your forthcoming projects with our friendly and knowledgeable Kellaway Branch Team.
We welcome all trade customers and members of the public to join us for this special occasion. Whether you're a long-standing customer or new to Kellaway Building Supplies, we're excited to welcome you.
Let's make this Winter Festival a highlight of the season. See you there!
Trade Days
Our Trade Days are specifically designed to cater to the needs of professionals in the building and construction industry. These events provide a platform for tradespeople to come together, network, and discover the latest products, technologies, and industry trends. From live demonstrations and product showcases to exclusive discounts and offers, our Trade Days ensure that our customers are equipped with the knowledge and resources they need to succeed. We make these themed fun events to attend and usually have some goodies and freebies to take away.
Golf Supplier Days
For those who enjoy a round of golf, look out for our customer golf days. With the opportunity to combine your passion for sport with business interests. Held at renowned golf courses like The Bristol (near Almondsbury), these exclusive events bring together industry professionals, suppliers, and customers for a day of friendly competition, networking, and camaraderie. With exciting prizes, expert tips from golf professionals, and the chance to test out the latest golfing equipment, our golf days are not to be missed.
Charity and Community Involvement
At Kellaway Building Supplies, we strongly believe in giving back to the community. From supporting local sporting teams to charity fund raising, we are keen to support and raise awareness for local charitable organisations. These events create a sense of purpose and unity among our staff, customers, and the wider community. From charity runs and sponsored events to fundraising auctions and awareness campaigns, we strive to make a positive impact on the lives of those in need. We encourage our customers to get involved and contribute to these worthwhile causes.
Join us throughout the year for these exciting events. Stay tuned to our website and social media channels for updates and registration details. At Kellaway Building Supplies, we are committed to providing exceptional service and experiences that go beyond just supplying building materials.